23 March: Palace 2 Walsall 0
PALACE PAUPERS
And Barnsley and Grimsby win ... "Frankly, we were toothless in attack today - shades of the Baggies away - their goalie must have had his easiest game of the season. " Moaning Saddler (Click here for more from Moaning)

16 March: Walsall 2 Barnsley 1
TEN MEN TAME TYKES
Bennett sent off, then the super Saddlers come back to win! Pity Grimsby and Sheff Wed both won ...
9 March: Grimsby 2 Walsall 2
LAST GASP
Walsall revived their survival chances, but did little to ease the emotional wear and tear on their fans, with a last-gasp point against the Mariners. In a match marred by driving rain and swirling wind, Grimsby went 1-0 up in the first half following some slack Saddlers defending. They then doubled their lead in the 52nd minute thanks to a comedy of errors. Walsall defender Holdsworth headed against his own post (from a good six yards) before team-mate Roper succeeded in bundling the ball over the line. However, Leitao scored in the 80th minute and Byfield in the 90th! "Probably one of the most absurd pieces of theatre that I have ever witnessed - you couldn't call it football in those conditions." (Moaning Saddler). Walsall: Walker , Aranalde , Holdsworth , Shields (Biancalani 75) Roper , Bennett , Simpson (Leitao 58) , O'Connor , Corica (Goodman 58) , Byfield , Wrack. Att:7016


5 March: Walsall 1 Burnley 0
HOPE SPRINGS
Marcelo downs Clarets.

2 March: Portsmouth 1 Walsall 1
POMPEY CIRCUMSTANCE
"Pompey were virtually clueless, the crowd were ready to get on their back, yet we let them back into the game all too easily. In the 5 league games since the most "brilliant" day of transfer news in the history of Walsall FC, we have picked up 2 points out of a possible 15 and scored a grand total of 2 goals. The much-feted Marcelo/Leiteo striking machine has produced a return of NIL goals to date." Moaning Saddler

26 February: Wolves 3 Walsall 0
10-MAN LAMBS TO SLAUGHTER
Holdsworth sent off again - apparently for nothing. It seems we played Wolves off the park prior to the sending off, but I put that view down to the Lee supporters justifying their support for Mr Lee. Two draws in six matches is hardly setting the world alight. And to think some people were calling him 'Sir Colin' after only three matches in charge. An insult to Sir Ray, I say. Still, we only need six wins out of the last ten games. There's about as much chance of that as there is of Hong Kong Cable TV showing any FA Cup matches! Just remember, we were ONE POINT off safety when RG was sacked. Where are we now?
Walsall: Walker , Aranalde , Holdsworth , Shields , Roper , Corica , Simpson (Byfield 73) , O'Connor (Bennett 83) , Leitao (Barras 52) , Wrack , Marcelo. Att:27043


23 February: Walsall 0 Manchester City 0
OH MY, AN UNEXPECTED POINT!
Jimmy Walker made two vital saves from Goater and kept out a last-minute effort from Horlock to ensure that the Saddlers earned a surprise point. In fact, they could have snatched a much-needed win had it not been for Weaver's excellent block from Corica and a superb interception by City defender Dunne to deny Marcelo. However, we have lost the habit of winning.
"How this one finished goalless mystifies me. We had three or four great chances, but they had chances as well. We had one cleared off the line in the last minute." Kevin Keegan.
People on the Steve Roy message board seemed to be in raptures over this point. I don't see why. We're sinking fast without a paddle.
Walsall: Walker , Barras , Biancalani , Shields , Roper , Corica , Simpson , O'Connor (Bennett 62) , Leitao (Byfield 88) , Wrack , Marcelo. Att:7618


19 February - Coventry 2 Walsall 1
16 February - Walsall 1 Fulham 2 (FA Cup 5)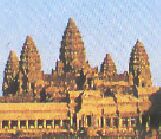 FROM BESCOT TO THE KILLING FIELDS

Forget the temples of Angkor Wat, the best sight in Cambodia, where I was on holiday, was Walsall on TV. I was able to see the Fulham game in Phnom Penh - just 6 miles from the Killing Fields. Pity about the result.

After Herivelto had contrived to miss an open goal (and it really was open - Van der Sar had gone walkabout) and Jorge had headed into the goalkeeper's hands from point-blank range (might have been better if he had misheaded it), Tom Bennett and Matt Carbon fell over each other in their efforts to put the ball in the back of the net just before half time - unfortunately, past our very own Jimmy Walker. We got back into it when Byfield backheaded the ball into the net in the 49th minute. In fact, the ball just hit him on the back of the head following a corner. I don't think he even saw it - would probably have got out of the way if he had ... Hayles scored a good goal for Fulham in the 61st minute and Van der Sar saved from Byfield with about 3 minutes left. Fulham probably deserved to win, but it could have been different.
Against Coventry, it seems, we had them on the ropes but couldn't kill them off. This is the report in the South China Morning Post I read on the flight back from Phnom Penh.

9 February - Walsall 0 Sheffield Wednesday 3
OWLS ARE A HOOT - FOR SOME
"After a flurry of transfer activity this week with Steve Corica being signed, then Martin O'Connor and Marcelo from the Blues (and Holdsworth having his loan extended), the Saddlers fans go into this game on a high. Hope it's not misplaced optimism...." I wrote before this match.

Well, it seems to have been. So much for this week's euphoria.

One thing we did beat Wednesday on was the number of bookings, which was 5-3 in our favour. Our two new 'proven first division players' managed to get themselves booked within the first three minutes. Oh, and Holdsworth got himself sent off in the second half. Perhaps Mr Lee should not have changed (Ray's?) winning team. The Saddlers now leapfrog the Owls back into the relegation zone. To make matters worse, Rotherham won thanks to a last-minute goal from proven striker but Walsall reject Mark Robins.
If we lose like this at home to our relegation rivals, there can't be many grounds for optimism. Looks like we may need a 'proven second division manager' come next season. RG, anyone?

Forget the Doffer, read Moaning Saddler. Views you can trust.
Walsall: Walker , Aranalde , Brightwell (Herivelto 3) , Carbon , Holdsworth , Bennett (Byfield 82) , O'Connor , Matias (Keates 73) , Leitao , Wrack , Marcelo. Att:8290 Video


2 February - Millwall 2 Walsall 2
DRAMA AT THE DEN
All the goals came in the last quarter of the match. After Byfield had contrived to miss a gilt-edged chance in the first half, Sadlier put the Lions ahead on 67 minutes, heading home from a corner with Jimmy caught out of position. Matias equalised 9 minutes later, and then the travelling faithful were privileged to see something almost rarer than the dodo - a Walsall penalty! In the 80th minute Millwall keeper Warner brought down Jorge and was lucky to remain on the pitch, receiving only a yellow card for his trouble. (In fact, having seen the video, I don't think Warner should have received a red card, or even a yellow.) This was the first penalty to be awarded to us in the league in a full 12 months. Dean Keates converted, and set us on the road to victory.
Unfortunately, the referee evened up the penalty awards 3 minutes later following Harris's theatrical tumble, and Jimmy failed to save the spot kick this week. (Watch the video - a definitely dubious decision.) Still, the point moved us out of the bottom three, thanks to Palace beating Sheffield Wednesday. However, the Owls do have a game in hand. Cue Walsall v Sheffield Wednesday next Saturday...
"The Saddlers came from behind to take the lead, only to see that lead wiped out by a dubious penalty decision against Matt Carbon." FTT Video (on www.saddlers.co.uk - over 3 minutes of highlights)
Walsall: Walker , Aranalde , Brightwell , Holdsworth , Carbon , Andre (Keates 71) , Matias , Bennett , Byfield (Angell 71) , Wrack , Leitao. Att:11285



29 January - Walsall 2 Wimbledon 1
WALSALL'S LUCK HOLDS
The Saddlers built on their cup win under new manager Colin Lee with a not very convincing victory over Wimbledon in front of a small crowd at the Bescot. Leitao equalised the Dons' 12th minute opener in the 42nd minute, and Jimmy Walker kept Walsall in with a shout with some good saves in the second half. Matt Carbon headed home the winner after 85 minutes from a corner by Dean Keates. This was the first time this season that the Saddlers have won a match after being behind. Walsall remain in the bottom three but have closed the gap on their nearest challengers for survival.
Colin Lee was "a little bit annoyed at half-time because the shape of the team was not correct." "I spelled a few things out in the changing room," he said.
"I'd say it was a bad result rather than a bad display by my boys," said Dons' boss Terry Burton.
Walsall: Walker , Aranalde , Brightwell , Holdsworth , Carbon , Andre (Keates 71) , Matias (Angell 86) , Bennett , Byfield (Herivelto 69) , Wrack , Leitao. Att:5388 Video (but not Carbon's goal)



26 January - Charlton 1 Walsall 2 (FA Cup 4)
SADDLERS BETTER THAN MAN UTD?
After a traumatic week in which RG was replaced by Colin Lee (no relation), Walsall were quickly into their stride against Charlton at The Valley in this Fourth Round FA Cup tie. In the fifth minute Jorge Leitao, who started a game for the first time for a long time, dispossessed Chris Bart-Williams on the halfway line, moved past Jorge Costa and ran through to chip Dean Kiely in the Charlton goal. An in-form Jimmy Walker made three exceptional saves in the first half to keep the Saddlers in front, and played an important part in the second half. Jorge broke through again to double the lead after 59 minutes, then Jimmy saved a penalty just 4 minutes later after Wrack had pushed Robinson in the area. Graham Stuart got one back for Charlton in the 69th minute to give Saddlers fans an anxious 25 minutes.
The BBC World Service decided to forsake Fulham for the last 10 minutes, so I was able to hear live commentary. They told the whole world about the flat caps and the "ONE RAY GRAYDON" banner.
So the Saddlers go further in the Cup than Man U - and we drew a bigger crowd as well!
Walsall: Walker , Aranalde , Brightwell , Holdsworth , Carbon , Andre (Keates 81) , Matias , Bennett , Byfield (Herivelto 90) , Wrack , Leitao (Angell 89). Att:18573 SCMP